Learn more about some of our specialties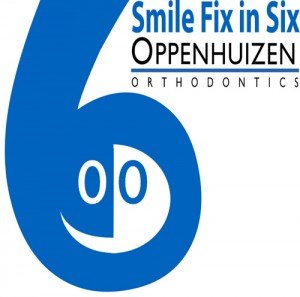 Many adults spend their entire lives covering their mouth when they laugh, smile or talk. Do you feel stuck because you do not want to wear metal braces for years or are concerned that corrective procedures could be too invasive or too expensive?
Don't do that!
Now, there is an effective, safe and affordable cosmetic solution that fits your lifestyle. A revolutionary combination of proven orthodontic techniques, modern materials, and innovative thought – Smile Fix in Six utilizes nearly invisible clear braces to gently straighten and align your front teeth in an average of just six months.
Is a Smile Fix in Six right for you?
The best way to find the answer to that question is to take the first step towards improving your smile; confidence and your life
… contact Dr. Oppenhuizen today.
What Is The Smile Fix in Six?
The Smile Fix in Six is a great alternative for adults to Invisalign®, comprehensive orthodontics, or even veneers in some situations.
The Smile Fix in Six is an appealing modification of reliable orthodontic therapy. There is no debate among orthodontic specialists that braces are the most widely used and effective method to give you straight, healthy teeth and a beautiful smile that lasts a lifetime.
The Smile Fix in Six takes the predictable precision of braces and modifies the treatment objectives to give adults a common-sense, cosmetic solution that fits your lifestyle. If you accept your bite and just want your front teeth to look their best, this is a great alternative.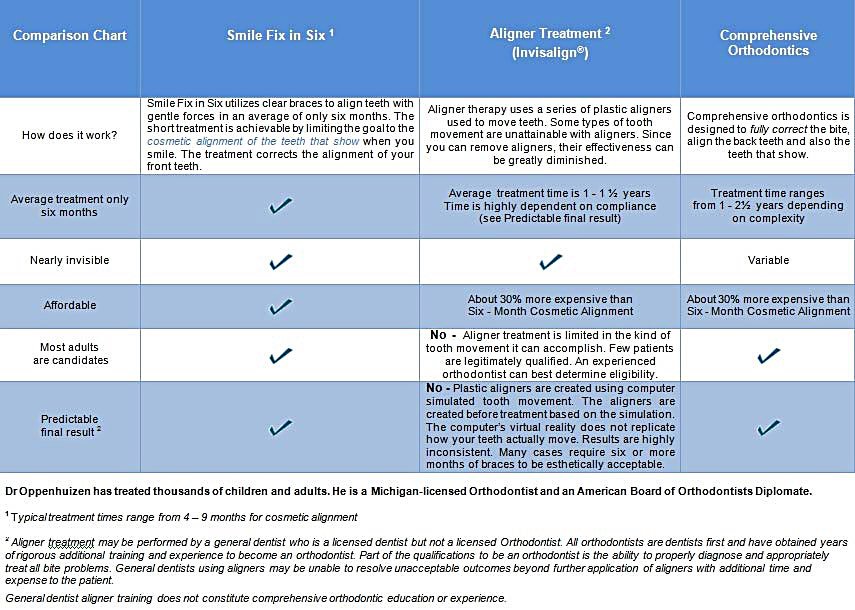 What makes The Smile Fix in Six so innovative…?
• Average treatment time of only six months.
• Easy and comfortable appointments.
• Dr. Oppenhuizen's experience will create an outcome to please you.
• Clear, state-of-the-art brackets are barely visible and very comfortable.
• Use of braces provides a more predictable outcome over aligners.
• Faster than Invisalign® or comprehensive orthodontics
• Removable aligners get lost, broken, or simply removed too much to be effective.
• Low forces and reduced friction allow your teeth to gently slide into place.
• Short overall treatment time reduces the hassle of improving your smile.
• No 'artificial looking' crowns or veneers.
• Less expensive than comprehensive braces, aligner therapy, or veneers.
To have your questions answered click on the Q&A video below:
Dr. Oppenhuizen utilizes Damon clear brackets to achieve our aesthetic goals. They are efficient, effective, rugged and, most importantly, the most esthetic bracket available today. Hard to notice them in the photo below; or on your teeth.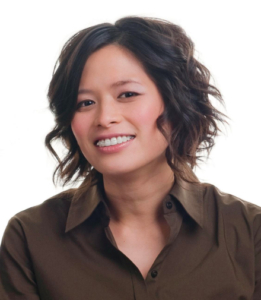 The Damon System features a creative mechanical structure: a passive conduit that permits low force wires to work in conjunction with the muscles of the face, tongue, bone and tissue. The combination of low forces and reduced friction minimize discomfort and greatly increase the types of cases that can be treated without supplemental high-force expansion devices or extractions.
Traditional braces use wires or elastics to hold the wire in the bracket like a bungee cord. The Damon bracket utilizes a sliding mechanism (like a trap door) over the bracket which allows the wire to be secured to the bracket without the need for ties.
Elastic ties increase resistance, degrade, and become unesthetic between appointments.
There is a place for extractions. Dr. Oppenhuizen decides, in part, by evaluating how your teeth fit into your face. Full lips may call for extractions while thin lips look for a non extraction approach. Many factors are involved, Dr. Oppenhuizen will evaluate how it all works together for you.
Either way, Damon clear brackets look great and work fantastic.
This video shows the problem of missing lower second premolars which occurs in 3- 4% of children in the United States. With the permanent teeth missing, the retained baby teeth also tend to fall out. 99% of retained lower primary second molars fail.

This video shows the data associated with the problem and a reliable solution that is more reliable, less traumatic and less expensive than the conventional solution provided in dental offices throughout America.
We have created a slide show presentation (~ 9mb) to explain in detail how we use the diode laser to enhance orthodontic treatment .
In orthodontics, we use a type of laser that is specific to pigment – tissues that have color. We use a soft-tissue diode laser to trim the gums. We use the laser to speed orthodontics and to enhance the aesthetic outcome of treatment.
Since the diode laser uses a narrow beam of single wavelength light it can be used with great care. Recontouring gums: the laser cuts with incredible precision, stops bleeding, and disinfects all at once. Because it is highly focused it doesn't affect adjacent tissue which reduces inflammation and permits rapid healing which is nearly painless.
The Procedure
We only recontour the gums that need to be re-shaped to enhance treatment.
First, we apply a topical anesthetic jelly to the gums. In just a couple minutes the gums are profoundly numb. Dr Oppenhuizen sculpts the gums to the appropriate size and shape. All you feel is the movement of the laser tip.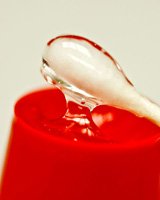 When the numbness wears off in less than a half hour, it is usually not sore at all. Rarely, people take Tylenol or Ibuprofen and there is never a need for prescription pain medicine. On some people, the topical anesthetic itself can irritate the gums causing some redness the day after the procedure
The area looks a little ragged the first day and it may bleed a little when brushed. However, the most important thing for healing is to keep the teeth clean. The next day the gums will be a little red around the site. In a few days the area will be dramatically healed. Cleanliness determines healing time: keep the teeth very clean and the gums heal very quickly (days).
Ideal Bracket Positioning

Very commonly the gums may not have receded to properly place an orthodontic bracket, or the teeth may erupt more slowly than expected, or are blocked out of place. With a laser we alter the contour of the gums to properly place a bracket. Recontouring the gums permits much more precise bracket placement. The result: less time in braces, fewer appointments, less hassle. You save time and money.
Impacted Teeth

Impactions refer to teeth that just don't grow through the gums. Often teeth grow right up to the surface, but just can't poke through the gums. In the past, to align these teeth we could wait months or refer for an expensive surgical exposure. Now shallow impactions are easily, painlessly handled during a quick, routine orthodontic visit.
Frenectomy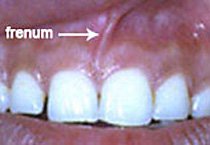 A frenum is a band of tissue that connects a movable tissue from a less movable tissue such as the band that connects the upper lip to the gums.
Sometimes the frenum is excessively bulky or it attaches too far down between the upper front teeth contributing to space problems (diastema). A low bulky frenum is also unaesthetic. A frenectomy is a procedure that reduces an excessive frenum and moves the attachment higher for a more aesthetic outcome.

Excessive Gums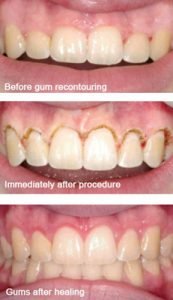 Sometimes the gums extend too far down on the upper front teeth which creates a 'gummy smile'. Excessive gums can make the teeth look small and poorly contoured. The solution: re-contour and reshape the redundant gums (gingival recontouring).
In the past we referred people for gum recontouring. Problem was: it didn't get done. Whether the issue was expense, inconvenience, not understanding the benefits, or any combination the outcome was a diminished smile. We now incorporate gingival (gum) aesthetics into our overall treatment plan to create a finer result.
Laser orthodontics is one of many advances Dr Oppenhuizen uses daily to give our patients the best result in the least amount of time with the least hassle, intervention, and expense.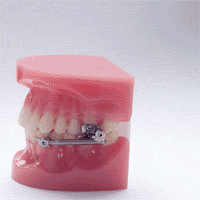 The Herbst is a non-removable orthodontic appliance that is used primarily for the treatment of an overbite. The 'Herbst' (Bite Jumper), was developed by Dr. Herbst, over a hundred years ago. It holds the lower jaw forward in a normal biting position by means of telescoping metal rods. The Herbst creates a desirable facial change immediately and, even though the muscles of the face appear tense at first, these muscles will soon relax.
Typically, the Herbst is worn for 8-12 months with adjustments every 12 weeks to accomplish the forward movement of the jaw. The last two months can actually create an underbite as the teeth may be overcorrected in anticipation of some relapse when the device is removed.
At first, the lips, cheeks and teeth may become sore. An over-the-counter pain reliever such as Ibuprofen will help to relieve this discomfort. Since the upper and lower teeth do not usually fit together for the first two to four weeks, a softer diet is recommended for the adjustment period. Wax may be placed over any part that is irritating the cheeks. Attempt to dry off the area thoroughly with tissue before applying the wax. We will also give you cotton rolls for your cheeks to help acclimate to the appliance.
Most people acclimate to the Herbst very quickly and have an uneventful time with the Herbst. It is, however, very important to follow the detailed instructions given at the time of delivery for treatment to go most smoothly.
Please avoid hard, sweet and sticky foods. Most of all, avoid rocking the Herbst with extraneous side-to-side and back-and-forth movements of the jaw and grinding the teeth. Brush your teeth and the appliance carefully and often. Especially aim the bristles up under the lower crown arms.
We truly appreciate and understand the difficulty some have adjusting to the Herbst. Unfortunately there is no innocuous way to correct an overbite. We use the Herbst because it is both efficient and consistently effective, unlike other devices such as a headgear, designed for overbite correction. Once you have become accustomed to the appliance, we feel you will be very pleased with the rapid results.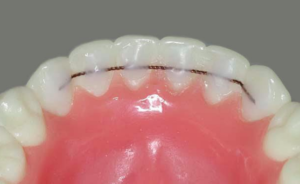 Bonded retainers actually look like this: it's a custom-shaped wire specially bonded to the back of the upper and lower front teeth:
You spend a lot of time, money and effort to align your teeth and achieve a great smile. But, the only way to keep that outcome is with bonded retainers. You must do that to keep what you achieved. We also place the retainers on the same day, at the same time your treatment is done. 
Bonded (permanent) retainers are the easiest, most automatic way to keep your teeth straight. We never rely solely on removable retainers, because it doesn't work. The simple truth is: 
Bonded retainers keep your teeth straight.
Removable retainers get removed and your teeth move. 
The key to a beautiful smile in the long run: 
Keep your mouth healthy: brush, floss, limit your carb's, pay attention to the bonded retainers and repair them promptly if they come loose. 
That's all you need to do to keep your masterpiece smile.
We supplement bonded retainers with night-time only removable retainers. 
It cannot be easier or more reliable, and we keep the cost of repair, which isn't common, inexpensive.
News and Insights
from Dr. Oppenhuizen
Most of our team members have 20 years of experience (or more!) serving our patients alongside Dr. Oppenhuizen. We take pride in offering proven, time-tested treatment options with state of the art technology, and in bringing expertise and a real sense of artistry to even the most challenging orthodontic complications.
Our Locations
Oppenhuizen Orthodontics is proud to serve West Michigan at its two Holland, Michigan locations.
Holland/Zeeland North Side
3300 Beeline Road
Holland, MI 49424
Tuesday & Wednesday
8:30am – 5:00pm
Holland's South Side
625 Michigan Ave
Holland, MI 49423
Monday & Thursday
8:30am – 5:00pm